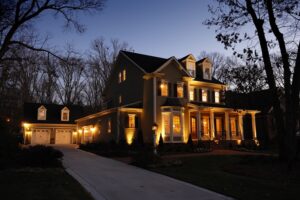 Flood lighting installation is a common type of lighting you'll find across residential and commercial properties. Mainly used outdoors, a proper flood lighting installation can be ideal for both landscape lighting and security lighting purposes. Installing flood lights is not difficult by any means, but some expertise from a professional electrician can help you avoid making some mistakes. Here are some items to keep in mind during your flood lighting installation that can help you better brighten and beautify your outdoor surroundings.
Poorly-Planned Placement and Positioning
A flood lighting installation will not be successful if your flood light fixtures' placement and positioning are not well-thought-out beforehand. This has a lot to do with your overall vision or design plans for your outdoor lighting setup. Placement of your flood lights will determine if all the areas you want to be illuminated will receive adequate light, and positioning heavily influences the lighting effects you can create with your lights.
Not Using Motion Sensors
Switches and even remote controls can make it super convenient for you to turn your flood lights on or off. Don't forget about installing motion sensors, too! Since your flood lighting installation covers the outdoor grounds, you may want to install those motion sensors that activate the flood lights closer to entrances or the perimeter of your property. This way, you can trigger the lights to come on as you approach the patio or garden. Also, it makes for a great deterrent to any would-be trespassers.
Not Choosing an Appropriate Brightness
Yes, flood lights can be very bright, especially if you plan to use them for security purposes. However, you do not need to choose a fixture that requires too many Lumens to get the job done. Many people are surprised to learn that just 5,000 Lumens is sufficient to cast flattering yet substantial light across the different landscape or architectural features of their home. Even dimmer flood lights would work in your outdoor lighting design depending on the overall effect you're trying to achieve with your flood lighting installation.
Need a Reliable and Experienced Electrician? Call Professional Electric Inc.
Our family-owned and operated business has earned the trust of the Crofton community since 1990. Our team of friendly and expert electricians is licensed, bonded, and insured. From electric panel upgrades to lighting installations, and all other electrical services and repairs in between, you can count on Professional Electric to get it done safely and skillfully. Further, our dedicated electricians are standing by 24/7 for your emergency electrical situations.
We proudly serve customers in Annapolis, Severna Park, Crofton, Gambrills, Odenton, Bowie, Stevensville, Mitchellville, Millersville, Cape St Claire, the surrounding Southern Maryland, and beyond. To find out more information on our wide range of electrical services, or to get a free estimate from our master electricians, contact us at our website or call 410‐451‐8085, 301‐390‐7620, or 443‐871‐1492. For more ways to stay connected, follow us on Facebook, Twitter, and Pinterest.