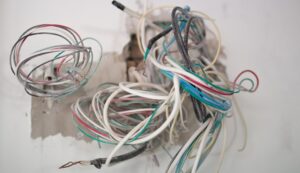 Your home's electrical system is likely one of the most complicated and confusing systems you have. The average person usually won't get into their electrical system, and for a good reason: it is work best left to a professional as it can be dangerous and disastrous if you make a mistake. For this reason, you likely don't know the metal composition of your home's electrical system. Most houses used aluminum wiring, but the aluminum to copper changeover has demonstrated more benefits to the household. While aluminum wiring is perfectly safe when it is well maintained, copper remains the better choice for a variety of reasons. Read on for four reasons to consider aluminum to copper changeover for your electrical system.
Durability
Aluminum is less dense than copper, so aluminum wiring is also less dense and easier to damage. It is actually quite easy for an inexperienced electrician to accidentally break aluminum wiring when doing work on an electrical system or panel. Aluminum wiring's lower density does make it more flexible and potentially easier to work with, but only for professionals who know how to do so without damaging the wire. Still, it may be best to avoid the potential of breakage altogether by opting for aluminum to copper changeover. 
Conductivity
Copper wiring has better conductivity than aluminum wiring. Comparing wiring of the same gauge, aluminum has a volume conductivity that is over 38% less than copper, meaning it simply can't transmit the same amount of electricity. To account for this difference, aluminum wiring has to be thicker than copper wiring to handle the same load.
Corrosion
Aluminum is more likely to corrode than copper, and the metal inside your wires is no different. If the aluminum in the wiring does corrode, that corrosion can impede the conductivity of the metal and cause your wiring system to short out or fail. Copper wiring can eventually corrode as well, but when it does, the corrosion does not impede conductivity in any way.
Melting Point
The melting point of aluminum is much lower than the melting point of copper. If your wiring experiences overheating, the aluminum conducting metal inside it could potentially melt and cause things around it to catch fire. An electrical fire can very quickly turn deadly, so copper wiring is a safer choice.
Need a Reliable and Experienced Electrician? Call Professional Electric Inc.
Our family-owned and operated business has earned the trust of the Crofton community since 1990. Our team of friendly and expert electricians is licensed, bonded, and insured. From electric panel upgrades to lighting installations, and all other electrical services and repairs in between, you can count on Professional Electric to get it done safely and skillfully. Further, our dedicated electricians are standing by 24/7 for your emergency electrical situations.
We proudly serve customers in Annapolis, Severna Park, Crofton, Gambrills, Odenton, Bowie, Stevensville, Mitchellville, Millersville, Cape St Claire, the surrounding Southern Maryland, and beyond. To find out more information on our wide range of electrical services, or to get a free estimate from our master electricians, contact us at our website or call 410‐451‐8085, 301‐390‐7620, or 443‐871‐1492. For more ways to stay connected, follow us on Facebook, Twitter, and Pinterest.