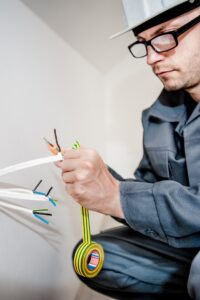 Are you planning on some home remodeling or need some electrical work done? It sounds like you need to find a Bowie electrician to get the job done. Once you start looking around for a Bowie electrician, you'll quickly realize that they aren't all the same. It's a huge matter of safety, protecting your home, and saving yourself money and future headaches to hire the right electrician. To help you search for your trusted Bowie electrician, these are some important questions to ask the professional before you hire them!
Are You Licensed, Bonded, and Insured?
Amateur electricians won't be licensed, bonded, and insured. What do these terms even mean? Most companies and workers in construction and contracting fields are required to be licensed, bonded, and insured. The business license proves that the company is legitimate. Further, being bonded and insured means that the Bowie electrician has responsible measures in place to cover the cost of any potential financial losses, such as damaged property or injury. One never intends to use them, but it's reassuring to know they have these back-ups in place.
Who Will Be Completing the Work?
If you're already in contact with the Bowie electrician for a project estimate, it's a good idea to clarify who will actually be completing the work at hand. Sometimes, the person you talk to for the job consultation won't be the one coming out to your property to do the work. This matters because you need to know you can count on who will show up the day of your appointment to do the work properly, promptly, and safely. 
What Are Your Experiences and Specialties?
The best way to get a sense if the Bowie electrician is right for the job is to ask them about their past work. How long have they been in the field of work, and have they done jobs similar to yours in the past? Some electricians specialize in repairs, while others take on more installation or inspection work. With Professional Electric, you can depend on our multiple electrical services, including but not limited to:
Need a Reliable and Experienced Electrician? Call Professional Electric Inc.
Our family-owned and operated business has earned the trust of the Crofton community since 1990. Our team of friendly and expert electricians is licensed, bonded, and insured. From electric panel upgrades to lighting installations, and all other electrical services and repairs in between, you can count on Professional Electric to get it done safely and skillfully. Further, our dedicated electricians are standing by 24/7 for your emergency electrical situations.
We proudly serve customers in Annapolis, Severna Park, Crofton, Gambrills, Odenton, Bowie, Stevensville, Mitchellville, Millersville, Cape St Claire, the surrounding Southern Maryland, and beyond. To find out more information on our wide range of electrical services, or to get a free estimate from our master electricians, contact us at our website or call 410‐451‐8085, 301‐390‐7620, or 443‐871‐1492. For more ways to stay connected, follow us on Facebook, Twitter, and Pinterest.