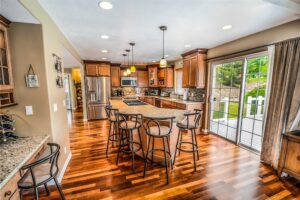 Completing recessed lighting installation for some or all rooms in your home remains an excellent home improvement project. Recessed ceiling lights are an ever-popular whole-home lighting solution that can efficiently yet elegantly provide your home with sufficient light. If you're looking to upgrade a room's visibility, installing recessed lights would be a far more impactful way to brighten up a room rather than purchasing a lamp. Planning for recessed lighting installation is a straightforward process, especially if you have the guidance and expertise from Professional Electric!
Choose Your Type of Recessed Lighting
To start, you will need to choose a type of recessed lighting fixture to install throughout your home. There are two primary options: a trim-and-bulb combo or LED trims. The trim-and-bulb are two separate components consisting of a traditional trim and the light bulb. LED trims come in one unit that cannot be separated and looks to have the light bulb sealed within the trim, lending it an attractive and sleek finish. More and more homeowners are switching over to energy-efficient and high-performance LED lighting every day.
How Many Lights Are Needed?
The number of lights you will require for your recessed lighting installation project will depend on the size of the room or rooms. Also, don't think that you can get away with fewer lights by compensating with brighter bulbs. In reality, you need adequate spacing of the ceiling lights to cast a desirable lighting effect. Consult with your electrician to determine the right spacing and number of lights you will need. This will help you avoid creating dark, unlit areas in the room or filling a room with too many lights.
Think About the Controls
The recessed lighting installation does not stop at installing the fixtures into the ceiling. Homeowners should also consider the controls of their newly installed lights. A smaller room could use one switch to control all the lights, but a bigger room or a home with an open layout should use zoned lighting switches. Of course, your electrician will need to wire the lighting controls to be operable from several switches if necessary. Another control option to consider is using a light dimmer switch.
Need a Reliable and Experienced Electrician? Call Professional Electric Inc.
Our family-owned and operated business has earned the trust of the Crofton community since 1990. Our team of friendly and expert electricians is licensed, bonded, and insured. From electric panel upgrades to lighting installations, and all other electrical services and repairs in between, you can count on Professional Electric to get it done safely and skillfully. Further, our dedicated electricians are standing by 24/7 for your emergency electrical situations.
We proudly serve customers in Annapolis, Severna Park, Crofton, Gambrills, Odenton, Bowie, Stevensville, Mitchellville, Millersville, Cape St Claire, the surrounding Southern Maryland, and beyond. To find out more information on our wide range of electrical services, or to get a free estimate from our master electricians, contact us at our website or call 410‐451‐8085, 301‐390‐7620, or 443‐871‐1492. For more ways to stay connected, follow us on Facebook, Twitter, and Pinterest.