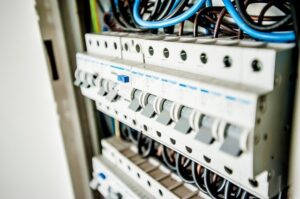 Tripped circuit breakers can be a nuisance, and they can also cause stress for unprepared homeowners. While some tripped breakers can simply be caused by an overloaded circuit, they may also be indicative of all sorts of other problems. Troubleshooting circuit breaker issues isn't always easy, but answering a few simple questions and working with an experienced electrician can help. The next time your circuit breaker gives you trouble, keep these tips in mind and contact the experts at Professional Electric!
Questions to Ask When Troubleshooting Circuit Breaker Issues
If your circuit breaker trips, there are a few common culprits that may be to blame. The answers to these questions can help you (and your electrician) get a start in the right direction:
How old is your circuit breaker? Your circuit breaker may be reaching the end of its usable life. If your unit is particularly old or has not been adequately maintained, it may be time for repair, maintenance, or a full circuit breaker replacement.
Have you made any significant additions? Adding a new appliance or room to your home can add significant demand to your existing system. This can cause your circuit breaker to trip if it's not up to the task. Your electrician may suggest creating a dedicated circuit for some larger appliances, or heavy up services may be in your future.
What were you doing when the breaker tripped? Did the breaker trip during startup? Did it trip while using a specific machine or appliance? This could indicate problems with the motor, appliances, or an overloaded circuit.
Leave Circuit Breaker Troubleshooting to an Experienced Electrician
While a tripped breaker can cause some homeowners to panic, leaving circuit breaker troubleshooting to an experienced electrician can help eliminate the stresses associated with electrical problems. Working with a professional also ensures that your home's electrical systems are safe and effective. Trust the experts at Professional Electric with all of your household or commercial electrical needs!
Need a Reliable and Experienced Electrician? Call Professional Electric Inc.
Our family-owned and operated business has earned the trust of the Crofton community since 1990. Our team of friendly and expert electricians is licensed, bonded, and insured. From electric panel upgrades to lighting installations, and all other electrical services and repairs in between, you can count on Professional Electric to get it done safely and skillfully. Further, our dedicated electricians are standing by 24/7 for your emergency electrical situations.
We proudly serve customers in Annapolis, Severna Park, Crofton, Gambrills, Odenton, Bowie, Stevensville, Mitchellville, Millersville, Cape St Claire, the surrounding Southern Maryland area, and beyond. To find out more information on our wide range of electrical services, or to get a free estimate from our master electricians, contact us at our website or call 410‐451‐8085, 301‐390‐7620, or 443‐871‐1492. For more ways to stay connected, follow us on Facebook, Twitter, and Pinterest.